Infinant Health to Host a Screening of The Invisible Extinction and Q&A with the Film's Scientists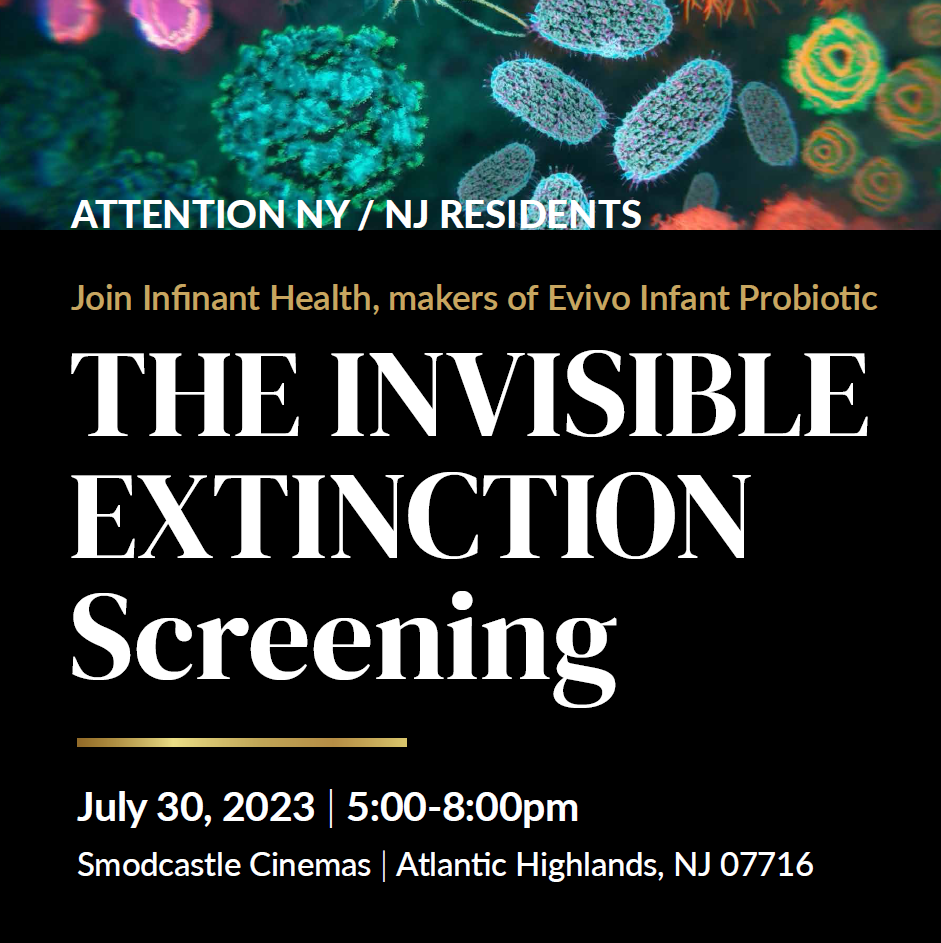 Infinant Health, a company committed to improving infant gut health and makers of Evivo® Infant Probiotic, is hosting an exclusive screening of the award-winning documentary, The Invisible Extinction on Sunday, July 30. In the film, scientists Dr. Martin Blaser and Dr. Maria Gloria Dominguez-Bello trace the disappearance of microbiomes that help digestion beginning in infancy and keep bodies healthy. The screening will be immediately followed by a Q&A with the two renowned microbiologists.
"It's amazing to see the science this film has brought forward on the significant role the gut microbiome has on overall health at all ages," says Mandy Kennedy, Vice President at Infinant Health. "As a company focused on the infant microbiome, we understand the first months of life are a critical window of opportunity to establish lifelong gut health. We're excited to host this screening and engage with the incredible scientists behind this film to help our community understand more about this important topic."
The Invisible Extinction features the two globetrotting microbiologists as they race to save our vanishing microbes before it's too late. The film joins them on this urgent quest, revealing how the overuse of antibiotics, elective C-sections, and processed foods are driving the destruction of our inner ecology and why we should be concerned. At the same time, the film tells the stories of three patients who suffer from life-threatening diseases triggered by microbial loss and who are trying experimental treatments that hold hope.
The event is open to the public, but space is limited. Those interested in attending should RSVP to reserve their spot at this exclusive one-night-only event.
When: Sunday, July 30, 2023, 5:00 – 8:00 PM RSVP by Friday, July 28.
Where: Smodcastle Cinemas, 82 First Ave, Atlantic Highlands, NJ 07716
Dr. Blaser serves as Rutgers University Professor of Medicine, and Pathology & Laboratory Medicine and holds the Henry Rutgers Chair of the Human Microbiome. Dr. Dominquez-Bello is the Henry Rutgers Professor of Microbiome and Health at the Departments of Biochemistry and Microbiology and of Anthropology at Rutgers University.
About Infinant Health, Inc
Infinant Health, Inc ("Infinant Health"), previously known as Evolve Biosystems, is a privately held company committed to changing the trajectory of human health by supporting the development of healthy immune systems via the infant gut microbiome. Infinant Health is building a product pipeline to optimize infant health. Investors in the company include the Bill and Melinda Gates Foundation, Johnson & Johnson, Cargill, and other leading institutions. Learn more at Evivo.
Related content in In The Press